Cabins, condos and chalets offer self catering accommodation or suites with kitchen facilities and a living/dining area, making them a good choice for families, or anyone wanting to cook for themselves.
There are not many properties offering this type of accommodation in Banff, and below is a good sample of the more popular choices.

502 Tunnel Mountain Road
Banff, Alberta, Canada
Situated in a peaceful location above the town of Banff, Tunnel Mountain Resort offers Executive Suites for two people without a kitchen, or several sizes and configurations of condos, suites and chalets with full kitchens for up to six people, or eight people if using a pull out couch. Public facilities include a heated indoor pool, whirlpools, steam room, sauna, fitness facility and children's playground.
More information and photos >

1029 Banff Ave
Banff, Alberta, Canada
Located on the outskirts of Banff, a 10 min drive or complimentary shuttle ride from downtown, the Rocky Mountain Resort offers accommodation spread throughout 8 acres of grounds, surrounded by the beauty of the Canadian Rockies. Studio, one bedroom, two bedroom, and loft suites are available, all with kitchen, living/dining area, full bathroom and fireplace. Standard suites are also available without kitchen.
For dining, the casual Peppers Bar & Deli is open all day and the more sophisticated Seasons Restaurant is open for dinner each evening. The sports facilities are impressive with a well equipped gym, sauna, indoor swimming pool, indoor whirlpool, squash courts, outdoor hot tub, and outdoor tennis courts.
More information and photos >

901 Hidden Ridge Way
Banff, Alberta, Canada
The Hidden Ridge enjoys a quiet and secluded location, hidden away from the other properties on Tunnel Mountain. The mountain views are spectacular and you get a true feeling of being in nature, yet you are just a 5 min drive from downtown Banff. All condos have a balcony or patio, wood burning fireplace, full kitchen, and have between 1 and 4 queen size beds, depending on the size of the condo. There are several hiking trails close by, and two hot pools.
More information and photos >

Tunnel Mountain Rd
Banff, Alberta, Canada
Located above the town on the quiet slopes of Tunnel Mountain, the Douglas Fir is about 20 mins walk or just a 5 min drive from the centre of Banff. The resort offers variety of condos, A-frame chalets, and specialty suites to suit all group sizes. Each unit has a well equipped kitchen, air conditioning, and most units have a wood burning fireplace. The family facilities are excellent and include two large waterslides, swimming pool, kids' pool, indoor & outdoor playgrounds, and the adults will enjoy the jacuzzis, steam room, saunas, fitness room and outdoor tennis.
For your groceries, there is a small grocery store and liquor store conveniently located on site, and there are two large supermarkets in downtown Banff.
More information and photos >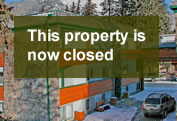 Rundle Manor Apartment Hotel
Rundle Manor Apartment Hotel
337 Banff Ave
Banff, Alberta, Canada
The Rundle Manor is the most centrally located of all Banff condo-style accommodations, located just a short stroll from downtown, and even closer to one of Banff's major grocery stores. The rooms are basic and affordable, and suitable for groups or families who need kitchen facilities at an economical price. Choose from a studio suite (max 2 guests) or a one bedroom apartment (max 6 guests) or two bedroom apartment (max 8 guests), each with a full kitchen and dining area. Guests are free to use the facilities of the Ptarmigan Inn next door, which include hot pools sauna and steam room.