If you are planning to spend thanksgiving weekend in Banff, you will no doubt be searching for a special meal to mark the occasion. While all Banff restaurants will be open for business as usual, you may find that the following special Thanksgiving menus will make your holiday weekend that bit more festive:
The Evergreen Restaurant at the Delta Banff Royal Canadian Lodge have put together a mouth-watering Thanksgiving menu, starting with a choice of cream of butternut squash soup, or salad of char grilled asparagus, or tempura crab roll. For the main course choose between traditional roast tom turkey with mousseline potatoes and gravy, or Italian style roast porchetta. Finish with a dessert of iced hazelnut semifreddo or a crepe suzette. This Thanksgiving special will be served on October 6, 7, and 8 2012 and costs $54 for adults and $24 for children under 12.
Melissa's Restaurant are serving a Thanksgiving dinner from 4-10pm on Sunday October 7 and Monday October 8 which includes a salad and bread starter followed by roast turkey with stuffing and gravy, mashed potatoes and vegetables for $22.95, or $13.95 for children. Dessert is not included in the price, however pumpkin pie will be available as an extra for those who have saved room for it!
The Keg Steakhouse at the Banff Caribou Lodge is serving a Thanksgiving Sunday brunch from 11am – 1.30pm which will include roast turkey with stuffing & gravy, and all the trimmings as well as breakfast items, costing $20.99 for adults and $9.99 for children under 12.
At the same venue, there will be an evening Thanksgiving dinner buffet from 4pm to 10.00pm featuring roast turkey, oven roasted prime rib, peel & eat shrimp, salad bar, dessert bar and much more, costing $30.99 for adults and $12.99 for children.
The Chinook Restaurant at the Banff Park Lodge will be serving a Thanksgiving brunch on Sunday October 7th 2012 from 10am to 2pm. The buffet will include a selection of salads, cold cuts, smoked salmon, shrimp, as well as some Thanksgiving specials such as roasted turkey with port wine gravy, sage and chestnut dressing, butter whipped potatoes, carved Alberta beef, and roast pork in wild mushroom sauce. You will also find a selection of delightful desserts, including a chocolate fountain and pumpkin pie! The cost is $31 for adults, and $21 for children 6-12 years. Be sure to bring a good appetite!
The Juniper Bistro is offering a special 3 course menu for Thanksgiving on Saturday October 6th, Sunday October 7th and Monday October 8th, costing $28 for adults. Start with a spiced carrot & parsnip soup with candied pecans & creme fraiche, followed by roasted turkey with turkey confit mashed potatoes, gravy and seasonal vegetables, with a home made sticky toffee pudding for dessert. There is also a children's menu for $9 with a small portion of turkey with regular mashed potatoes & gravy followed by vanilla ice cream with maple caramel sauce for dessert.
At the Rimrock Resort Hotel, a Thanksgiving dinner is being served in the Primrose Dining Room on the evenings of October 6, 7 and 8. The delicious menu, costing $39pp can be seen here (pdf). A special children's menu (pdf) is also available for $19.
The Fairmont Banff Springs Hotel are offering a Thanksgiving dinner buffet on Sunday & Monday (6-9pm) in the Bow Valley Grill for $55pp ($27.50 for children 6-12yrs). On the menu you will find roasted turkey plus all the trimmings as well as a wide range of other dishes.
The Bow Valley Grill is also featuring their regular brunch on October 6 & 7, costing $45pp ($22.50 for children 6-12yrs).
The Bison Restaurant is offering a Thanksgiving special on Sunday October 7th and Monday October 8th which includes a ham hock & parsnip soup to start, followed by honey brined turkey breast and confit leg, sausage stuffing, mashed potatoes, glazed carrots, gravy and cranberry sauce as the entree. Finished off with warm pumpkin pound cake with white chocolate cranberry ice cream for dessert, and you've got a fine 3 course meal for $40.
At Banff International Hotel, Ricky's All Day Grill is serving turkey dinner from 4pm on October 6, 7 and 8 for just $15.99pp. The meal includes a soup or salad starter and a dessert of creme brulee cheesecake or sticky toffee pudding .
*The above prices do not include tax or tip.
Please contact the above restaurants directly to book your table.
To avoid disappointment, early reservations are recommended for Thanksgiving events at all Banff restaurants.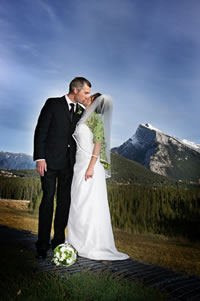 Wedding at the Juniper Hotel & Bistro
photo: Open Image Photography
There can be little doubt that the town of Banff, situated in the heart of the majestic Canadian Rockies, is one of the world's most idyllic locations for that very special wedding day. Once you have your heart set on getting married in Banff, the following list of Banff wedding venues should provide a good starting point for turning your wedding dream into a reality that you and your guests will remember for years to come:
The Juniper Hotel & Bistro
For a Banff wedding venue that offers all the facilities you need in one convenient location, it is difficult to beat the Juniper Hotel & Bistro, Banff's trendy mountain oasis, which specializes in celebrations for up to 110 guests. The Juniper Terrace provides a spectacular outdoor setting for a wedding ceremony, surrounded by Banff's iconic mountain peaks and overlooking the sparkling Vermillion Lakes, and the Juniper Bistro & Lounge, serving some of Banff's finest cuisine, offers the ideal location for your wedding reception.
For more information about Banff wedding packages for a variety of group sizes and budgets, visit www.thejuniper.com.


Banff Park Lodge
Centrally located in downtown Banff, the Banff Park Lodge offers a wide variety of wedding reception rooms, suitable for all sizes of wedding party up to as many as 450 guests. Being a popular venue for conferences, they have an extensive range of catering menus and have all the necessary facilities for dealing with larger groups.
To find out more about using the Banff Park Lodge as a venue for your wedding reception, visit www.banffparklodge.com.
Buffalo Mountain Lodge
With a peaceful location on Tunnel Mountain, Buffalo Mountain Lodge is a good choice for anyone looking for Banff wedding venues with the look and feel of a traditional Canadian Lodge. There are 3 function rooms which can be used for a wedding reception, and groups of up to 90 people can be accommodated. Their renowned Rocky Mountain Cuisine is available in a variety of special menus and is sure to please even the most demanding foodie in your wedding party!
To find out more about their wedding package or elopement package, visit www.crmr.com.
Fairmont Banff Springs Hotel
Sometimes known as the 'Castle in the Rockies', the Fairmont Banff Springs Hotel offers a fairy tale setting for a marriage ceremony or wedding reception, and boasts several function rooms which can accommodate wedding groups from 12 to 220 people. Food service and attention to detail is top notch and during the summer rarely does a weekend go by without at least one happy couple tying the knot at this popular Banff wedding venue.
For more information about wedding packages at the Banff Springs, visit www.fairmont.com.
Rimrock Resort Hotel
Perched on the slopes of Sulphur Mountain with commanding views over the town of Banff and surrounding peaks, the Rimrock Resort Hotel is a luxury Banff hotel which offers several function spaces for wedding ceremonies and receptions for up to 400 people.
To download their wedding package brochure or banquet menu, visit www.rimrockresort.com.
You've got one night in Banff and you want dinner to be a great experience. Choosing the perfect restaurant is always tricky even in the most familiar of circumstances so in foreign territory the results can often be hit and miss. One restaurant where you simply can't go wrong is Le Beaujolais. The cornerstone of fine dining in the Rockies, Le Beaujolais has long been Banff's finest and now with their very reasonably priced Bistro Cafe de Paris menu it's just got even better!
The Bistro Cafe de Paris is a casual space adjacent to the main fine dining room where the meals are priced competitively but the quality of the French style food exceeds much of what's on offer in Banff today. The traditionally dressed interior is drenched in natural light, the atmosphere is relaxed and comfortable and the food simply outstanding. The wine list is very accessible and the dynamic views of the streets below and mountains beyond are precisely what eating in Banff is all about. Albert Moser, owner/chef seems to always be on location overseeing his impeccable establishment and the atmosphere is reassuringly casual compared with other fine dining restaurants.
Try the crispy, slow cooked pork belly with corn-arugula ragout, onion confit, poached cranberries and Balsamic ham jus or the Pacific salmon poached in virgin olive oil with parsley potatoes, roasted bell and Piquillo peppers and pink grapefruit, all of which arrives at your table in an impressive copper pan. Oh and don't forget to add on a side of the most perfectly rendered French fries served in their own cone, c'est magnifique!
Restaurant Le Beaujolais and Bistro Cafe de Paris are located on the main street of Banff, opposite Central Park at the corner of Buffalo Street and Banff Avenue. The restaurant is a favorite of in-the-know Banff locals so best it's best to reserve your table!
Call: 403-762-2712
Website: www.lebeaujolaisbanff.com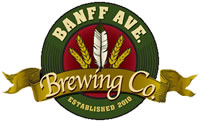 Banff's first brew pub opened this summer in the heart of downtown to the delight of locals and visitors alike. Located on the second floor of Clock Tower Mall, the Banff Ave Brewing Co. may be new to Banff, but owners Dan Rodrigues, Socrates Korogonas and Brett Ireland are well seasoned, having owned and operated a popular microbrewery in Jasper, the Jasper Brewing Co. since 2005. The brewed on-site beers are created using pure local glacial water (with the added chlorine removed – thanks guys, much appreciated!) and the classic ingredients of hops, malted barley and their own cultured yeast! There's nothing overly done or fancy here just good honest well-crafted beer and a manageable variety of 7 or so styles to work your way through. The Brewers Oar Cream Ale is superb, an accurate take on the classic English bitter, the Head Smashed IPA (India Pale Ale) is also outstanding as is the Reverend Rundle Stout, dark and delicious. The food is fun casual classics like fish and chips (highly recommended), burgers, steak sandwiches, salads, pastas and loads of tasty appetizers. Great for families, large groups or intimate pairs. Choose from high top or low top tables, booth seating, comfy lounge area, or head out onto the second story balcony overlooking Banff Avenue and the mountains beyond.
Check out the beer and food menus on their website: www.banffavebrewingco.ca
Located at the High Country Inn, Ticino is one of Banff's longest standing restaurants and has been in operation since 1974. Popular among Banff locals for high quality European cuisine in a relaxed atmosphere, the Swiss Italian menu offers mouth watering dishes such as Pork Tenderloin Baked in a Potato Crust, Panfried Veal Scaloppini in Cheese Batter, and Fondue with Gruyère and Emmenthal. With Black Forest Gateau and Tirami Su on the dessert menu, what more could a European food fan wish for?!
See the Ticino food and wine menus here.
The multiple award winning Eden restaurant at the Rimrock Resort Hotel combines one of the finest dining experiences in Western Canada with some of the best views anywhere in the Canadian Rockies. Choose from a 3, 4, or 5 course Table D'Hote menu, a 6 course Chef's Tasting Menu or a 10 course Grand Degustation menu. French cuisine such as Spring Creek Beef Tartare, and Foie Gras Croque Madame, is expertly combined with locally inspired creations such as Alberta White Tail Deer and British Columbia Squab, and with the help of the sommelier each course can be paired with an ideal wine from the cellar of over 17,000 bottles.
View the full menu here.