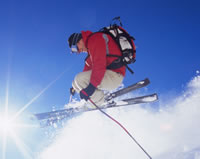 It's still only early November but it looks and feels a lot like winter with fresh snow on the ground in the towns of Banff and Lake Louise, which means thoughts about skiing and snowboarding have started to enter the minds of snow sports lovers across the country. Probably the most common question for skiers and riders is:
"When do Sunshine Village, Lake Louise and Mount Norquay open for the 2019-2020 ski season?"
Well, the wait is finally over as the ski resorts at Lake Louise and Norquay are already open with Sunshine Village to follow on November 8!
Mount Norquay opened November 1 2019, and at the time of writing (Nov 7) 2 of 6 lifts are open, namely Cascade Chair and Sundance Carpet.
Lake Louise Ski Resort opened November 1 2019, and by Nov 7 Glacier Chair, Grizzly Gondola and Lower Sunny Carpet lifts were open and early season pricing is in effect.
Sunshine Village has a confirmed opening date of Friday November 8 2019, with Strawberry Express Chair and their two magic carpets open with early season pricing in effect.
Each of the ski hills will open more terrain as conditions allow, so it is always recommended to check snow conditions directly with the resorts if you are planning to head up the mountain during early season.