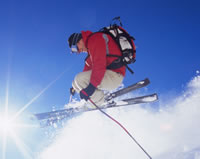 It's early November and snow has been falling for a while now in the Banff and Lake Louise area, which means thoughts about skiing and snowboarding have started to enter the minds of snow sports lovers across the country. Probably the most common question for skiers and riders is:
"When do Sunshine Village, Lake Louise and Mount Norquay open for the 2023-2024 ski season?"
Well, we now have confirmation that skiing will be open in the Banff area as soon as this week!
Lake Louise Ski Resort has a confirmed opening date of November 3 2023. This is one week ahead of their initial planned opening due to Mother Nature delivering a respectable amount of early season snow.
Mount Norquay has a confirmed opening date of November 3 2023.
Sunshine Village has a tentative opening date of November 9 2023.
The reason of course that some of these opening days are 'tentative', is that the resorts need enough snow on the ground to operate. For this reason any tentative dates are subject to change so be sure to confirm the actual opening day and the current conditions directly with the ski areas nearer the time if you are planning to head up the mountain on the first day of the season.