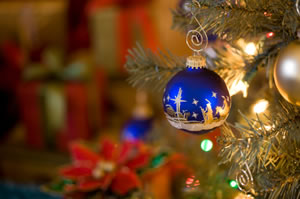 Christmas in Banff is a truly magical experience for many reasons; the snow covered Canadian Rockies, warm hospitality, world class skiing, and a great selection of winter activities make Banff the perfect destination for your 2018 Christmas vacation. Although Christmas is much quieter than New Years in Banff, it is still advisable to book your hotel accommodation early.
Find a Room
Hotels in Banff know how to celebrate Christmas in style and although many Banff hotels do not offer specific Christmas packages, they are certainly open for business right through the Christmas period, with no shortage of festive dining and celebrations throughout the town.
To check availability and compare rates at several Banff hotels for the Christmas period, click here.
If you are looking for special Xmas packages offered by Banff accommodations, you may be interested in the following options:
Christmas at the Fairmont Banff Springs Hotel
It is difficult to imagine a more idyllic setting than the Banff Springs Hotel to celebrate the Christmas of your dreams with your family or loved ones. As soon as you arrive at the 'Castle in the Rockies' during the holiday period and see the enormous and lavishly decorated Christmas trees and hear the festive music you know you're in for a truly memorable experience. Throughout the holiday period there is a whole host of fun and festive activities taking place at the hotel – in fact there is so much going on, they produce a special Xmas guide booklet to help you keep up with all the fun!
To check room only rates and availability at the Fairmont Banff Springs Hotel click here.
The Fairmont Banff Springs Hotel offers two Christmas packages for 2018:
Couples just looking for a room at a favourable rate should consider the Couples Holiday Getaway Package, which is basically a 'stay 2 nights and get the 3rd night free' deal. The package is based on double occupancy in a Fairmont Room for a minimum 3 night stay from December 21 2018 to January 1 2019.
For families or couples who are looking for luxury accommodation with holiday 'extras' included, the Christmas at the Castle Package may be just the ticket. This package includes accommodation in a Fairmont Room, self parking, a decorated Christmas tree in your room, plus a whole host of festivities taking place over the holiday period. The package is valid from Dec 16 2018 to Jan 2 2019, with rates starting at $539 per night based on double occupancy in a Fairmont Room.
Once you have booked your room, you can look forward to taking part in Christmas activities such as the gingerbread house workshop, the great Santa send-off, Santa's workshop, cookie decorating, curling, Christmas carols, ice skating, wilderness walks, teen games room and much much more.
For Christmas Eve and Christmas Day dining, there are a variety of options including:
Holiday Brunch at The Vermillion Room – Dec 24
A Christmas themed brunch buffet with festive flair in the The Vermillion Room, the hotel's newest brasserie style restaurant.
11am-3pm, Cost $59 adults, $32 kids 6-12 yrs, 5 and under free
Cascade Family Christmas Eve Buffet – Dec 24
Decadent Christmas Eve dinner buffet in the Cascade Ballroom.
5.30-9.30pm, Cost $85 adults, $50 kids 6-12 yrs, 5 and under free
Christmas Day Brunch – Dec 25
The Fairmont Banff Springs Hotel Christmas Day brunch in the Riverview Lounge, Alberta Room & Cascade Ballroom – sure to impress!
9.30am-1.30pm, Cost $89 adults, $50 kids 6-12 yrs, 5 and under free
Christmas Dinner Buffet – Dec 25
The Banff Springs signature Christmas dinner buffet in the Vermillon Room with local and international holiday specialties.
5-10pm, Cost $99 adults, $55 kids 6-12 yrs, 5 and under free
Christmas Afternoon Tea – Dec 24, 25 & 26
Traditional Afternoon Tea with a festive theme on Christmas Eve, Christmas Day or Boxing Day in the Rundle Lounge with some of the best views in the Canadian Rockies.
11am-5pm, Cost $65 adults, $35 kids 6-12 yrs, 5 and under free
For full information about Christmas activities and Christmas & Boxing Day dining at the Fairmont Banff Springs Hotel, be sure to view the official Christmas at the Castle Guide which you will receive on check-in.
Banff Park Lodge
Crave Mountain Grill will be presenting a traditional feast on the evening of December 25th with their Festive Christmas Dinner Buffet. You find roast turkey on the menu with all the trimmings, a carving station with Alberta striploin of beef and house made porchetta, maple soy cedar plank salmon filet, pan seared gnocchi with grilled vegetable ratatouille, salads, charcuterie & seafood appetizers and festive desserts including a Crepe Suzette station and a chocolate fountain. The price for adults is $72, with children 6-12yrs costing $42.
La Terrazza, an Italian restaurant at the Banff Park Lodge, will be offering a plated 5 course Christmas menu on the evening of December 25 with a choice of entrees including free range roasted turkey breast & confit turkey thigh with garlic whipped potato, OR seared organic B.C. king salmon & crispy pacific rock crab cake drenched in Prosecco tarragon cream sauce with rice pilaf, OR pan seared AAA Alberta beef tenderloin medallions drizzled with a Sardinian brandy cream with pomme dauphine, OR baked polenta layered with roasted root vegetables. Combined with an equally delicious artichoke velouté soup, festive salad appetizer, palate cleanser and dessert, this special costs $84 per person.
To check room rates at the Banff Park Lodge click here.
Rimrock Resort Hotel
The Rimrock Resort Hotel has lots of fun activities taking place over the Holidays, such as children's crafts, ice skating with hot chocolate, a Christmas Eve celebration, campfire singalong, a visit from Santa on the morning of December 25th, and a selection of venues to enjoy Xmas dinner.
To check rates for the 2018 Holiday Season click here.
Buffalo Mountain Lodge
Buffalo Mountain Lodge is offering a Christmas Package which includes one night's accommodation on December 25th, gourmet Christmas dinner, plus a buffet breakfast on Boxing Day, December 26th.
**The above hotel rates are subject to applicable taxes, subject to availability, subject to change without notice, and generally based on double occupancy. To confirm details and availability for all hotel packages and Christmas dining, please use the links provided.
If you are going to be in Banff for New Year's Eve, you may also be interested in seeing some Banff New Year hotel packages.