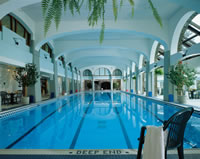 After a day in Banff National Park, what better way to unwind than a soak or a swim in your hotel pool, or if you are a family with kids, some of the indoor or outdoor pools can be a destination in their own right. Most hotels in Banff have some sort of hot tub or whirlpool, but several Banff accommodations offer a lot more than that, with some hotels offering swimming pools and others having larger hot pools with unique designs or in special locations. Below you will find a comprehensive list of hotels in Banff with pools that we regard to be a level above the average hot tub.
The Douglas Fir Resort & Chalets has one of the most popular swimming pools for families with 2 indoor waterslides plus whirlpools. This facility is open to hotel guests only, and is free of charge.
As part of its impressive sports facilities the Banff Rocky Mountain Resort has a 15 metre indoor pool as well as an indoor and outdoor hot tub.
Guests at Best Western Siding 29 Lodge can do laps in the indoor swimming pool, or just relax in the hot tub.
Not surprisingly, the Fairmont Banff Springs Hotel has an excellent selection of pools, with a 20 metre outdoor heated pool (open year round), a 32 metre indoor pool, as well as a shallow indoor pool for small kids plus an indoor jetted hot tub. These pools in the Aquatic Centre are free of charge to hotel guests, while the mineral pool with waterfalls in the Willow Stream Spa as well an indoor and outdoor hot tub are available for an additional charge (currently $69 per day for hotel guests).
The Banff Park Lodge has an indoor heated swimming pool as well as a large Jacuzzi. Guests of the nearby Peaks Hotel & Suites can also make use of these facilities.
The Banff High Country Inn offers an indoor heated pool plus hot tubs which guests at their sister property the Red Carpet Inn can also enjoy.
The Rundlestone Lodge can offer its guests a 45 foot indoor lap pool plus a large whirlpool.
A unique hot pool can be found at the Fox Hotel & Suites, whose grotto-like appearance resembles the historic pools at the Cave & Basin.
The Grotto Spa mineral pool plus a whirlpool can be found at the Delta Banff Royal Canadian Lodge.
At the Banff Caribou Lodge & Spa you'll find a large 26 person jetted hot pool which is part of their Red Earth Spa facility, but is free for all hotel guests to use.
The Rimrock Resort Hotel offers its guests an indoor pool as well as a whirlpool as part of their spa & leisure facilities.
The indoor pool, hot plunge pool, and hot tub at the Banff Park Lodge can be used by guests of sister hotel, the Bow View Lodge.
Guests at the Hidden Ridge Resort can enjoy magnificent mountain views from the two outdoor hot pools perched on a ridge looking west down the Bow Valley.
And finally, Tunnel Mountain Resort has an indoor heated pool and 2 indoor whirlpools for its guests to enjoy.
If you don't stay at a Banff hotel with a pool, you can always make use of the public pool in Banff Alberta, namely the 25 metre swimming pool at the Sally Borden Fitness & Recreation Centre (day pass price $20 adults, $16 4-15 yrs).