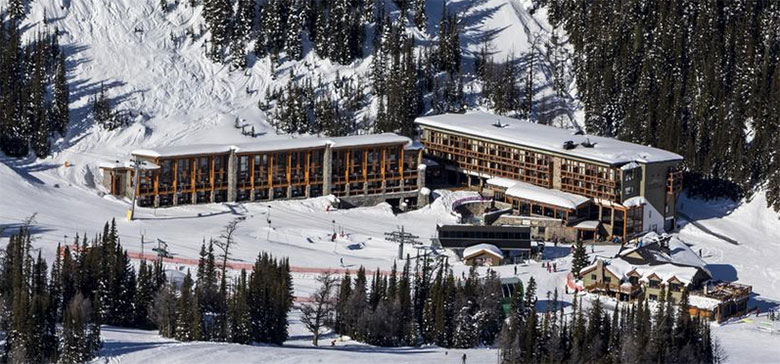 One of the best ways to maximize your time on a ski trip is to stay in accommodation as close as possible to the slopes. Ski in ski out hotels are as good as it gets in terms of convenience and proximity to the ski lifts, which is why they are so popular throughout the Alps and in many of North America's most popular ski resorts. In the Banff area there is only one ski in ski out hotel, namely Sunshine Mountain Lodge. In fact no other hotel is within walking distance of the ski lifts, making this property the only one in Banff National Park that does not require driving your own vehicle or hopping on a ski bus to take you to the slopes.
Located at the top of the gondola at Sunshine Village, one of Banff National Park's three ski resorts, guests of Sunshine Mountain Lodge can clip into their skis or snowboards right outside the Lodge entrance and within seconds glide to the Standish, Strawberry, Angel or Wawa chairlifts without worrying about road conditions, parking, or lift lines at the base of the gondola. If part of the family wants to be on the first lift, while others enjoy a more leisurely start to the day, no problem, just swing by the Lodge and pick up the late starters whenever they've finished their morning latte and pastry at the Java Lift Coffee Bar! Likewise at the end of the day, for some apres ski may start earlier than for others – easy – just head to the historic and characterful Mad Trappers Smokehouse at whatever time suits and sip on a hot chocolate or something stronger while waiting for the die-hards to finish their last run. Is the afternoon a bit warmer than you expected? Just ski back to the hotel and peel off some layers in the privacy of your own room. Powder Day? What could be better then getting straight out for fresh tracks while others are still brushing snow off their cars? You get the picture… the convenience of lodging on mountain is hard to beat!
Accommodations at Sunshine Mountain Lodge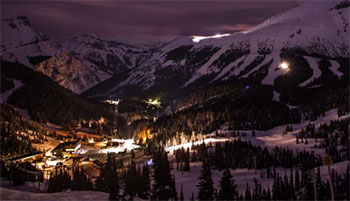 There are several room options at Sunshine Mountain Lodge; guests looking for the ultimate in luxury ski in ski out Banff hotel rooms will appreciate the West Wing Loft Rooms which feature huge windows with spectacular views of the slopes and ski lifts of Lookout Mountain, as well as in floor heating and 42 inch flat screen HD TVs. The main floor has 2 queen size beds plus a bathroom with jetted tub, while the loft features a king bed with its own private bathroom. The West Wing Premiere Rooms are similar but without the loft, so are suitable for smaller groups.
The Main lodge Suites are also blessed with beautiful mountain views and offer a king bed plus a double sofa bed, with space to unwind. There are two types of smaller Deluxe View Rooms, one with open mountain views plus a slope-side balcony and the other to the rear of the Lodge with closer views of the Waterfall Run. Each of these rooms features a queen size bed and a single 'trundle' bed.
Dining Options
Just because you are staying on-mountain above 2000m in altitude, doesn't mean that you have to compromise on your food choices. On the contrary, there are multiple choices for breakfast, lunch, and dinner, and any snacks or treats you need in between!
The Chimney Corner, located in Sunshine Mountain Lodge, is a casual family restaurant with fireplace seating and fantastic slopeside views, and an outdoor terrace for the warmer spring days. Open for breakfast, lunch, and dinner, this is an excellent spot to refuel at any time of day.
For a more casual breakfast, panini for lunch, or a hot chocolate and a treat at any time of day, Java Lift Coffee Bar fits the bill nicely, located just off the Lodge's main entrance.
Eagle's Nest is Sunshine Mountain Lodge's upscale restaurant, and is open for dinner only, while Mad Trapper's Smokehouse is located just a few steps outside of the Lodge and has a pub-style atmosphere where you can enjoy lunch and apres ski in the historic Old Sunshine Lodge. Perfect for a 'night out'!
During the day, at the neighbouring Lookout Lodge there are further dining options including The Alpine Grill self-serve cafeteria open for breakfast and lunch, and the Sunshine Burger Company and Lookout Kitchen & Bar each open for lunch.
Lodge Amenities & Activities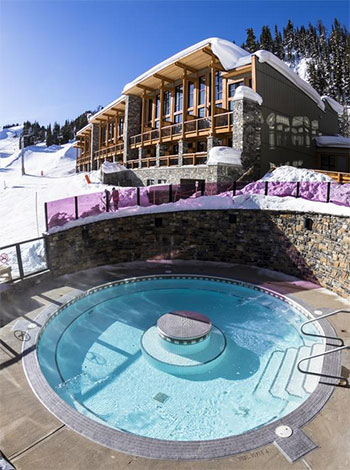 As a guest of this on-mountain Banff hotel, you can be on your skis or board one minute, and then unwinding in their outdoor hot pool or dry sauna the next. For the next level of relaxation, why not try a massage or treatment at Verde Day Spa?
If a day of skiing isn't taxing enough, you could always workout in the gym, or spend your time more leisurely with the video games and pool table in the activity room.
For outdoor fun, snowshoeing and tobogganing are available at Sunshine Village on select days after the lifts close, and on Friday nights you can take a shuttle bus into Banff and come back to the Lodge on the last gondola at 10pm.
Sunshine Mountain Lodge offers more than just ski in ski out accommodation. This property gives guests a truly unique opportunity to spend the night in a stunning mountainside location surrounded by the winter wonderland of the Canadian Rockies.
For more information, visit www.sunshinemountainlodge.com.