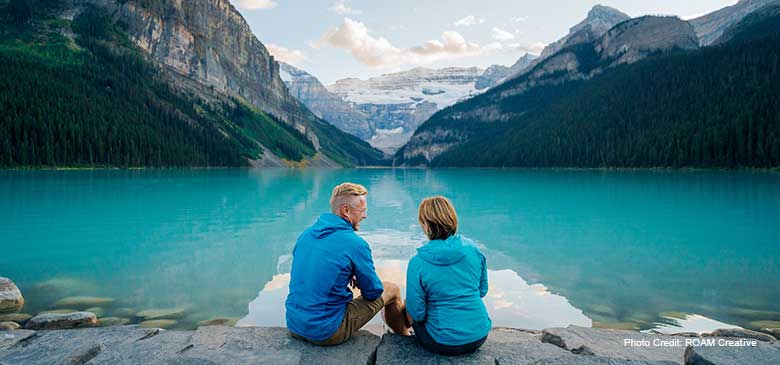 There is no doubt that a visit to the stunning Lake Louise is an unmissable experience for anyone visiting the Banff area. From the turquoise lake to the incredible alpine scenery surrounding it, its pristine beauty has been drawing visitors from across the globe for generations. However, due to the popularity of this Canadian Rockies gem, getting to Lake Louise during peak season requires careful advanced planning to ensure that you do not miss this essential item from your Banff National Park 'bucket list'.
Driving to Lake Louise Lakeshore (Not Recommended)
If you look at a map or your car's GPS Navigation you can be forgiven for thinking that driving your own vehicle is the easiest way to get to Lake Louise lake shore, indeed there is a Parks Canada parking lot conveniently located just a short walk from the Lake for exactly that purpose (summer parking fee $21/day). However during the peak summer months, from mid May to early October, parking is extremely limited and will most likely be full from the early hours of the morning until after sunset. If you arrive at the parking lot when it is full, Park Wardens will simply wave you through the lot, and send you straight back down the road in the direction you came. There is no system for waiting for a parking space to become free, you simply have to exit the parking lot and move on to Plan B. However by this time all the shuttle services may be fully booked, meaning that you may need to return another day, which is not only inconvenient, it may not even be possible in your schedule.
For the above reasons, driving your own vehicle to Lake Louise Lakeshore is not recommended, unless you are visiting during the low season (mid October to mid May).
New for 2023, Moraine Lake Road is closed to personal vehicles, and only open for official shuttles and commercial vehicles, meaning that driving your own vehicle to Moraine Lake is no longer an option.
To guarantee a stress-free and memorable visit to Lake Louise and/or Moraine Lake, we recommend taking a shuttle or guided tour, as described below.
Lake Louise Shuttle from Lake Louise Ski Resort
Parks Canada Lake Louise and Moraine Lake Shuttles
Parks Canada operates a Lake Louise shuttle service from Lake Louise Ski Resort & Summer Gondola. This is a Park and Ride system, allowing you to drive most of the way to Lake Louise in your own vehicle, comfortably park at the ski resort free of charge, and then take a 15 minute shuttle bus from there to the actual Lake. They offer shuttles to both Lake Louise Lakeshore and Moraine Lake, allowing you to visit two iconic Canadian Rockies lakes on the same day if you choose.
There are 2 separate routes departing from Lake Louise Ski Resort Park and Ride, one to Lake Louise Lakeshore, and the other to Moraine Lake. Departures for both routes start at 6.30am and leave every 20 minutes until 6pm, daily until October 9 2023. The Lake Connector, which is included in your shuttle reservation, can take you from Lake Louise to Moraine Lake or vice-versa on a first come first served basis every 15 minutes from 8am to 6pm. It is your choice whether you visit one or both lakes, the price is the same. The shuttle back from either lake to the Park and Ride does not require a reservation, and can be taken at any time until the last shuttle at 7.30pm.
The price of the Lake Louise and Moraine Lake Shuttle is as follows; Adults (18-64 yrs) – $8, Seniors (65+ yrs) – $4, Youth (17 and under) – free. There is an additional $3 online reservation fee, or $6 telephone reservation fee.
The Lake Louise and Moraine Lake Shuttle is very popular and we strongly recommend making early reservations on the Parks Canada website.
Click here and you will find the shuttle reservations under the 'Day Use' tab.
Don't be alarmed if your preferred day is already fully booked, as 60% of the seats will not be released until 8am MDT two days prior to the date of travel. For example at 8am (MDT) August 25th, additional seats will be released for shuttles departing August 27th. In our experience these late availability seats can sell out quickly, so we recommend making your reservations at 8am sharp!
*Top Tip* – visit the Parks Canada Reservations website ahead of time, become familiar with the shuttle reservations system, and open an account if you don't already have one. This will save you time on the day, and give you a better chance of getting your preferred time slot!
Website: reservation.pc.gc.ca
Alternative Shuttles
As an alternative to the Parks Canada shuttle above, Wow Banff offers a shuttle on an open top double decker bus starting from the Park and Ride at Lake Louise ski resort and visiting both Lake Louise Lakeshore and Moraine Lake. The bus leaves the ski resort every hour from 8am to 3pm and, similar to the Parks Canada shuttle above, your time at both lakes is flexible, and you can simply jump on any of their hourly buses back to your starting point. Tickets cost $42.95 for both adults and children.
If you don't have your own vehicle, the same company can take you from Banff to meet the open top bus at the Lake Louise Park and Ride for $34.95 for adults and $24.95 for children.
Website: wowbanff.com
Another shuttle option from Lake Louise Ski Resort Park and Ride is operated by the Moraine Lake Bus Company. While they specialize in shuttles to Moraine Lake, four of their daily departures allow for a one hour sightseeing stop at Lake Louise Lakeshore before continuing to Moraine Lake. Tickets cost $35 for adults and $25 for children.
To view their schedule and for reservations, visit morainelakebus.com.
Lake Louise Shuttle from the Lake Louise Inn
Fairview Limousine and Shuttle Service offers shuttles to Lake Louise departing from a different location, namely the Lake Louise Inn, where you can park your vehicle. Starting at 8am these shuttles run every 45 minutes until 5pm, have a journey time of 15 minutes, and cost $15 per person and $10 for children (3-11 yrs). Return journeys run between 8.15am and 6pm and are booked at the time of reservation.
They also offer a shuttle from the Lake Louise Inn to Moraine Lake starting at 8am and then every 1hr 15mins until 8.30pm, with a 30 minute journey time, and costing $25 or $15 for children (3-11 yrs). Return journeys run from 9.45am to 10.15pm.
Website: fairviewlimo.ca
Take the Bus from Banff to Lake Louise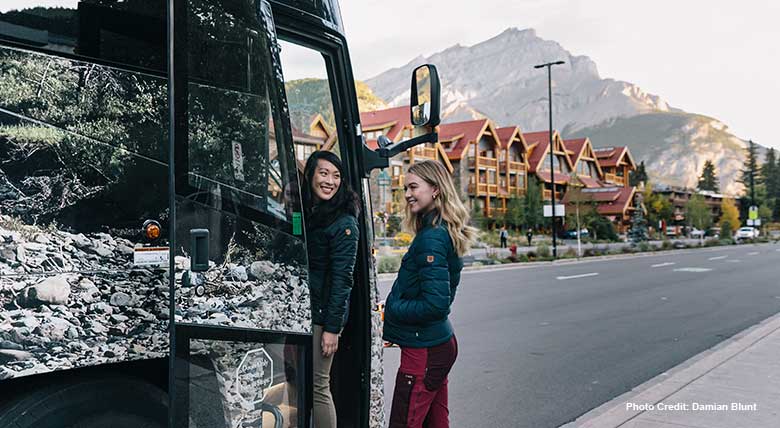 Roam Transit offers a daily bus service between Banff and Lake Louise (Village or Lakeshore). The 8X Lake Louise Express departs from the Banff High School Transit Hub on Banff Avenue, in the heart of downtown Banff. There are several departures daily starting at 7am, with the last shuttle being at 10pm, and the journey time is around one hour. Return journeys to Banff depart from Lake Louise Lakeshore starting at 10.27am and end with the last bus at 11.12pm. The return journey costs $20 for adults, $10 for youth and seniors, plus a $3 online booking fee. Children under 13 yrs are free of charge however still require a reservation.
From July 1 to August 27 2023 the 8S Lake Louise Scenic bus service is an extra Roam Transit service which operates from Friday to Sunday and on Canada Day (July 1) and Heritage Day (August 7). This service travels on the slower but more scenic Highway 1A (Bow Valley Parkway) to Lake Louise, with a journey time of 1 hour 23 mins, and is less frequent than the direct 8X Lake Louise Express.
Visitors who wish to see Moraine Lake as well as Lake Louise should book the Roam Super Pass which includes the Parks Canada Lake Connector, a shuttle service which travels between Lake Louise and Moraine Lake every 15 minutes. The Super Pass from Banff to Lake Louise costs $25 return, which is just a $5 supplement compared to the regular fare. Youth and Seniors travel for $12.50 return.
Please note that the Roam Lake Louise Bus is very popular and can sell out several weeks in advance, particularly for the morning departures from Banff.
Early reservations are strongly recommended for all the above Roam Transit services, and can be made at their website roamtransit.com.
Take a Guided Tour from Banff to Lake Louise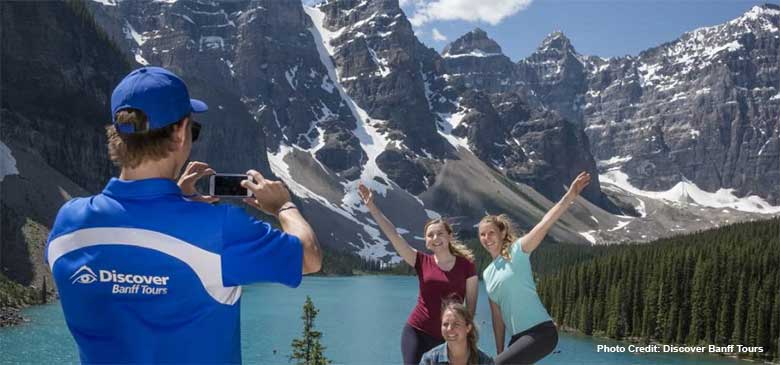 If you prefer to be picked up from the door of your Banff hotel and have the services of an interpretive guide, an excellent way to visit Lake Louise and Moraine Lake is on a guided tour.
Discover Banff Tours offer their Lake Louise and Moraine Lake Tour which gives you around 30 minutes at Lake Louise, enough time for photos and a stroll, and around 1 hour at Moraine Lake. This guided tour lasts 4hrs 15mins, with daily departures at 8am or 1pm from your hotel, and prices start at $97 for adults and $49 for children.
Website: www.banfftours.com
The Mountain Lakes and Waterfalls Tour operated by Brewster Sightseeing takes visitors to the famous Lake Louise and Moraine Lake, in addition to other spectacular Canadian Rockies sights such as Emerald Lake and Takakkaw Falls in Yoho National Park. This is a full day guided tour with lunch included, lasting 9 hours and costing $203 for adults and $132 for children.
Website: www.banffjaspercollection.com
Hop on Banff offers a flexible tour to Lake Louise from Banff which allows you to hop on and off the bus at various locations en route. They have 3 departures per day, leaving at 7.45am, 9.30am and 12.15pm from the Moose Hotel in Banff, calling at Johnston Canyon via the Bow Valley Parkway, Lake Louise Gondola, Chateau Lake Louise (lakeside), and Moraine Lake. Return transport leaves the Fairmont Chateau Lake Louise at 12.15pm, 3.25pm and 4.45pm. Adults $71.43, Children $61.90.
Website: www.hoponbanff.com
Go on a Guided Hike to Lake Louise and Moraine Lake
If you prefer to be active while taking in these incredible pristine lakes, White Mountain Adventures offers an easy guided hike which includes strolls along the shores of both Lake Louise and Moraine Lake, as well as a 6km return hike to Consolation Lakes. The tour includes pick up from Banff hotels, an interpretive guide, and scenic lunch. Costing $149 for adults, $104 for children, the van shuttle leaves Banff at 8am, returning around 3pm.
Website: www.whitemountainadventures.com