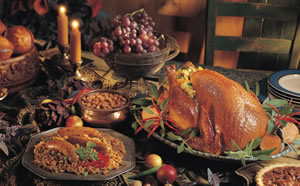 If you are planning to spend 2018 thanksgiving weekend in Banff, you will no doubt be searching for a special meal to mark the occasion. While all Banff restaurants will be open for business as usual, you may find that the following special Thanksgiving menus will make your holiday weekend that bit more festive:
The Fairmont Banff Springs Hotel will be serving a brunch buffet in the Vermillion Room from 11am to 3pm on Saturday October 6th and Thanksgiving Sunday October 7th, costing $54pp (kids 6-12yrs $27), which will include the usual wide selection of breakfast and lunch items.
Also at the Fairmont Banff Springs, a Thanksgiving dinner will be offered on Saturday October 6th, Sunday October 7th and Monday October 8th (5-10pm) in the Vermillion Room for $85pp. The special menu will include traditional turkey plus all the trimmings, and the regular menu will also be available.
The Juniper Bistro has some of the best mountain views in Banff, so what better place to take in the snow covered Canadian Rockies while enjoying a hearty Thanksgiving feast? Celebrating local ingredients, their special menu starts with a choice of roasted squash soup, goat's cheese phyllo pastry, or salmon gravlax. The entree is no less delicious with duck fat confit turkey leg with apple and walnut stuffing and maple glazed sweet potato, or 10oz striploin with summer squash gratin and char grilled broccolini, or a trio of acorn, butternut and summer squash with beluga lentils and charred corn. For dessert they will be serving Eggnog Panna Cotta with mulled wine jelly and cacao crunch, or pear & cranberry cobbler with coconut cream gelato. This menu will be available October 5 & 6 from 5-10pm and October 7 & 8 from 5-9pm and costs $59 + tax.
Crave Mountain Grill at the Banff Park Lodge will be serving a Thanksgiving brunch on Sunday October 7th 2018 from 10am to 2pm. The buffet will include the usual breakfast items and omelette station plus Thanksgiving specials such as roasted turkey with all the trimmings. You will also find a selection of delightful desserts! The cost is $34 for adults, and $19 for children 6-12 years. Be sure to bring a good appetite!
Crave Mountain Grill is also offering a plated turkey dinner on the evenings of Sunday October 7 and Monday October 8 from 5-8.30pm for $28.
The newly renovated Sleeping Buffalo Restaurant at Buffalo Mountain Lodge on Tunnel Mountain is hosting a 3 course dinner on the evening of October 7 costing $57 per person. The first course comprises sweet potato, corn, spinach & lentil chowder or spiced pear, spinach & radicchio salad with goat's cheese. The entree will be a choice of free range roast turkey with pine nut, pancetta & sage stuffing, maple roasted yam mash, brussel sprouts and gravy, or boar loin chop & braised boar belly, mushroom ragout with double smoked bacon barley risotto. This tempting holiday special is rounded out with dark chocolate & pumpkin cheesecake or maple pecan apple tart with bourbon ice cream.
At the Rimrock Resort Hotel, a 4 course Turkey dinner is being served in the Primrose Dining Room on the evenings of October 6, 7 and 8. The delicious menu (pdf), costing $54pp includes braised bison shoulder or cider brined & herb crusted roast turkey with all the trimmings. A special children's menu is also available for $27pp.
Melissa's Restaurant is serving a Thanksgiving dinner from 4pm on Sunday October 7 and Monday October 8 which includes a salad and bread starter followed by roast turkey with stuffing, mashed potatoes and gravy, and vegetables of the day for $29.95 for adults. Dessert is not included in the price, however pumpkin pie will be available as an extra for those who have saved room for it!
The Bison Restaurant will be featuring a turkey dinner special with cranberry compote, costing $42 on October 7 & 8 from 5pm. Their regular menu will also be available for your starters, desserts, and a wide range of other entrees.
*The menus below from last year will be updated as soon as this year's menus have been finalized*
The Evergreen Restaurant at the Delta Banff Royal Canadian Lodge have put together a mouth-watering Thanksgiving menu, starting with soup of the day or pear, walnut & blue cheese salad, followed by roast free range turkey with sage stuffing, whipped potatoes and grilled harvest vegetables. Finish with a dessert of lemon souffle. This Thanksgiving special costs $35 per person and is available from October 7th-9th.
Banff's Irish Pub St. James Gate is featuring a Thanksgiving Day Feast all day on Sunday and Monday. The 2 course option costs $20 and includes a choice of salad or butternut squash soup as a starter followed by traditional turkey dinner. For an extra $5 you can have the 3 course option which also includes a dessert of pumpkin cheesecake.
*The above prices do not include tax or tip.
Please contact the above restaurants directly to book your table.
To avoid disappointment, early reservations are recommended for Thanksgiving events at all Banff restaurants.