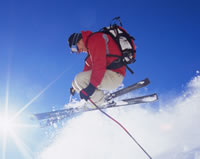 It's late November, the mountains surrounding Banff and Lake Louise are white with snow, and thoughts about skiing and snowboarding have started to dominate the minds of snow sports lovers across the country. Probably the most common question for skiers and riders at this time of year is:
"When do Sunshine Village, Lake Louise and Mount Norquay open for the 2014-2015 ski season?"
Well, the long wait for the winter season is now over with all 3 ski resorts in the Banff Lake Louise area already open!
The Lake Louise Ski Area opened November 13 2014.
Sunshine Village opened November 14 2014.
Mount Norquay opened November 29 2014.
Bear in mind that the number of lifts and runs open during the early weeks of the season may be limited, and further snowfalls and snow making will allow the hard working trail crews to open more terrain in the coming weeks. For this reason, be sure to confirm snow conditions and grooming reports directly with the ski areas before heading up the mountain for the first time.
Against the spectacular back drop of the Canadian Rockies, athletes from across North America will be competing in the fifth annual Subaru Banff International Triathlon on Saturday September 6 2014. The setting for the race could not be more scenic, with the swim taking place in Two Jack Lake, the bike race around the stunning Minnewanka Loop and then into the town of Banff, followed by the run along the banks of the Bow River, with the finish on Banff Avenue in the heart of downtown Banff.
Course Distances
The race will include three distances, with the Olympic distance starting with a 1.5km swim, followed by a 38km bike ride and finishing with a 10km run, and the shorter Sprint distance including a 500m swim, 25km bike ride and 5km run. There will also be a Super Sprint distance which includes a 300m swim, 12km bike ride and 5km run. There will also be relay teams competing in all distances.
Course Map
Our interactive Banff Triathlon Map shows an overview of the full course, as well as all start and transition zones and allows you to zoom in to view detailed close ups of any section of the course. To view the Banff triathlon course map, click here.
Start Times
The race starts with the swim at Two Jack Lake with the Sprint Waves starting at 10.00am and 10.03am, the Super Sprint Waves at 10.10am and 10.13am and the Olympic Waves at 10.30am and 10.34am. With the 2012 winner of the Super Sprint completing the course in just over 56 minutes, you can expect the first racers to cross the finish line not long after 10.50am.
Previous winning times for the Olympic distance have been in the 1hr 50mins to 2hr range.
For further information about the race, visit the official race website.
Cycling enthusiasts will be flocking to Banff National Park from June 12-15 for the 2014 Bike Fest road bike racing event. Taking place over 4 exciting days, Bike Fest 2014 will comprise 5 races, 4 of which will be in and around the town of Banff, with one race starting further west in Lake Louise.
Each race course route can be seen on the Banff Bike Fest map, an interactive Google map showing all the courses as well as the start and finish areas for each event.
Cascade Shops Prologue – June 12
This is a 1.5 km steep climb with approx 100m of elevation gain starting from the corner of Buffalo Street and Otter Street, heading up Buffalo Street past Surprise Corner onto Tunnel Mountain Drive and ending at the corner of Tunnel Mountain Drive and St Julien Way, behind the Banff Centre. The race starts at 6pm and riders will start individually every 30 seconds.
Lake Louise Road Race – June 13
Starting and finishing in Lake Louise, the majority of this 64 km race takes place on the Bow Valley Parkway, Highway 1A, heading east from Lake Louise past Castle Junction as far as Johnson Canyon Campground area where racers will turn around and head west back along the Bow Valley Parkway to Lake Louise. The race starts at the Lake Louise Recreation Centre on Village Road at 9.30am for Cat 1/2 Men, 9.45am for Cat 3/4, and 10am for the Open Women category. The race finish is 1km east of the 1A Exit to Lake Louise.
Individual Time Trial (ITT) – June 14
Taking an out and back route along the scenic Vermilion Lakes Road, the Time Trial sees cyclists racing against the clock on an 8 km course starting and ending at the start of Vermilion Lakes Road off Mt Norquay Road on the edge of the town of Banff. The race starts at 8am with riders leaving every 30 seconds.
Criterium – June 14
One of the most exciting races of Bike Fest, and also one of the most popular for spectators, the Criterium involves racing multiple loops of a short 1 km circuit with tight turns and fast moving action in downtown Banff, counterclockwise along Banff Avenue, Wolf St, Beaver St and Moose St. The races kick off with the Cat 5 riders at 4.00pm who will be riding 25 laps of the course, followed at approx 4.45pm by Cat 4 racers riding 26 laps, 5.30pm Cat 3 racers riding 30 laps, 6.15pm the Open Women category riding 30 laps, and culminating in the fastest and longest race of the evening with Cat 1/2 Men racing 50 laps of the course, starting at approx 7.10pm.*
*Start times are estimated.
Little Crits & Cruiser Crit
Preceding the Criterium on June 14 are two fun bike races for anyone to join in. Starting at 2.30pm the Balkan Restaurant Little Crits gives kids up to 11 yrs the chance to race on the Criterium course while raising funds for Banff Elementary School. With the styles of bike as varied as the costumes of the riders, the Cruise for a Cause is a fund raising event which is as comical for the spectators as for the participants, starting at 3.00pm.
Tunnel Mountain Road Race – June 15
The last race of Banff National Park Bike Fest 2014, Tunnel Mountain Road Race starts from the corner of Beaver Street and Wolf Street and takes racers onto Banff Ave as far as Rocky Mountain Resort where a right turn leads uphill onto Tunnel Mountain Road which loops past the Hoodoos Lookout and Tunnel Mountain Campground, left at Buffalo Mountain Lodge onto Tunnel Mountain Drive around the back of the Banff Centre, with an exciting descent past Surprise Corner and back into town. The race is split into 3 different categories with Cat 3/4 starting at 7am, Open Women starting at 7.02am, and Cat 1/2 Men starting at 10.10am. The first 2 groups will be racing 78 km (6 laps) while the race distance for Cat 1/2 Men will be 130 km (10 laps).
To view the start and finish points for the above races as well as the routes the races will take, see the Bike Fest course map.
Easter is a excellent opportunity for a springtime visit to the Canadian Rockies. With Easter Sunday 2015 falling relatively early on April 5, the ski and snowboard season will still be in full swing at Sunshine Village, Lake Louise Mountain Resort, and Mount Norquay. Easter is also a great time to go sightseeing in Banff National Park as the views of the snow-capped peaks are stunning at this time of year, and the roads are very quiet compared to the summer months. Alternatively, strolling through the streets of downtown Banff discovering the excellent restaurants and shopping can be a fun and relaxing way to spend the Easter holiday weekend.
Banff Lodging for Easter 2015
Easter weekend is usually a busy one for hotels in Banff, and most Banff accommodations do not offer specific Easter packages or special deals. That being said, at the time of writing, availability is quite good for Easter weekend and it is recommended that you make your reservations as early as possible while there is still a wide selection of hotels to choose from. As the holiday weekend approaches, vacancies for the night of Saturday April 4 are likely to become limited, while Friday April 3 and Sunday April 5 will probably have more openings.
To check rates and availability for several Banff hotels, click here.
Skiing and Snowboarding
The Banff area is blessed with a long winter which means that by Easter the ski resorts often have some of their best snow of the whole season. Both Sunshine Village and Lake Louise Mountain Resort are open until May and Mount Norquay will also still be open for Easter weekend skiing.
Easter Sunday Brunch in Banff
One of the best things to do on Easter Sunday in Banff is to treat yourself to one of the amazing brunches offered by several hotels in town, and we have listed some of the most popular options below. These events are extremely popular and are likely to sell out, which means early reservations are strongly recommended.
Easter Sunday Brunch at the Fairmont Banff Springs Hotel
Sunday Brunch at the Banff Springs Hotel is legendary, and their Easter Brunch is no exception. In addition to the impressive breakfast and lunch specialties, there are often extra Easter themed treats which make the Easter Brunch buffet even more special. Also, the Brunch for Easter 2015 will take place in the Alberta and New Brunswick Rooms, and the Cascade Ballroom, with the buffet being located in the Riverview Lounge, which is a rare opportunity to experience these venues which are reserved for special occasions.
When: April 5 2015, 10.00-14.30
Where: Alberta & New Brunswick Rooms, Cascade Ballroom
Cost: Adults $69, Children 6-12yrs $34.50, 5yrs + under free
Reservations: 403 762 6860
Rimrock Resort Hotel Easter Brunch
Sunday Brunch will be offered in the Ballroom at the Rimrock Resort Hotel, and will feature a buffet with breakfast and lunch items and chef attended carving stations.
When: April 5 2015, 10.00-13.00
Where: Ballroom
Cost: Adults $42, Children 6-12yrs $21, 5yrs + under free
Reservations: 403 762 3356
Easter Sunday Brunch at the Banff Park Lodge
The Banff Park Lodge will be serving Easter Sunday Brunch in the Chinook Restaurant from 10am to 2pm. The buffet includes a wide selection of breakfast and hot & cold lunch items, including omelet station, waffles, carving station & salads. Make sure you leave plenty of room for the excellent desserts and chocolate fountain!
When: April 5 2015, 10.00-14.00
Where: Chinook Restaurant
Cost: Adults $36.00
Reservations: 403 762 4433
Easter Brunch at Mount Norquay
If you are skiing or riding on Easter Sunday, why not have your brunch on mountain? Kika's Cafe at Mount Norquay will be hosting brunch on April 5th from 10am to 1pm. There will be plenty of breakfast goodies on the menu including eggs, bacon, and French toast with maple syrup, and the kids are sure to enjoy the Easter egg hunt outside the lodge at 10am.
When: April 5 2015, 10.00-13.00
Where: Kika's Cafe, Mount Norquay
Cost: Adults $17.00, Children 6-13yrs $8.50, 5yrs + under free
Easter Brunch at Buffalo Mountain Lodge
On Tunnel Mountain, the sophisticated yet rustic Sleeping Buffalo Restaurant at Buffalo Mountain Lodge will be offering a delectable Easter breakfast buffet including carved bone-in ham, omelet station, bacon, sausage and other breakfast items, deli meats and cheeses, a dessert table and also hot cross buns!
When: April 5 2015, 07.00-13.00
Where: Sleeping Buffalo Restaurant
Cost: $24.00 per person
Reservations: 403 760 4484
*The above rates for Easter Sunday Brunch do not include tax and service charge.
Thanksgiving is just around the corner, and if you are planning to spend Thanksgiving weekend in Banff you should consider making your Banff hotel reservation as soon as possible while there are still rooms available.
To check availability and rates at several Banff accommodations for Friday October 10, Saturday October 11 and Sunday October 12 2014, click here and enter your travel dates.
*The information below is from 2013 and will be updated shortly*
If you are looking for a special hotel package for Thanksgiving weekend, you may wish to try the Fall into Savings Package at the luxury Fairmont Banff Springs Hotel. Although this package is not specifically for Thanksgiving, it is available over the Thanksgiving weekend, subject to availability. The package is available for a minimum 2 night stay and gives you a bigger saving the longer you stay. For example a 2 night stay qualifies for a 25% discount, a 3 night stay would get you a 30% discount, and a 4 night stay or longer would save you 45% off the nightly rate. In addition to the discounted room rate, this package gives you a Value Card which can be used for discounts on spa treatments, golf, and bowling.
To check rates and availability for this package, click here.
The Fairmont Banff Springs Hotel boasts several excellent restaurants and is offering a variety of options throughout the weekend for Thanksgiving dinner and brunch.
Although most Banff hotels are not offering Thanksgiving deals as such, there are many other properties which still have vacancies for Thanksgiving weekend. For a complete list of accommodations in Banff, please visit our hotel, motel or condos & chalets pages.
Many hotels and restaurants in Banff will be offering special menus for Thanksgiving dinner or Thanksgiving brunch.
Click here to see some great options for Thanksgiving dinner in Banff.
* The above rates are generally based on double occupancy and are subject to applicable taxes, subject to availability, and subject to change without notice. For current information and for reservations, please click on the links provided.
Now in its 5th year, the annual Banff Dragon Boat Festival is set to take place on the weekend of August 11 to 12 2012.
Dragon Boat races take place each day from 9am to 3pm on Lake Minnewanka, a pristine alpine lake surrounded by majestic mountain peaks, approximately 10km from downtown Banff. Originating in China more than 2000 years ago, the 40ft long boats have a dragon's head and tail and are decorated in vibrant colours, with a team of 20 paddlers and a drummer beating the rhythm, which can be heard from the shore, adding to the spectators' excitement.
The event is lots of fun for participants and spectators alike, and while you are waiting between races there is of course the beauty of the Lake Minnewanka area to discover with its scenic beaches, hiking trails and picnic tables. As parking at Lake Minnewanka is limited, spectators are encouraged to take the free Dragon Express Shuttle which runs every 30 minutes from 8am to 2.00pm (return service until 4.30pm), with departures from the Brewster Bus Depot, Caribou St adjacent to the Mount Royal Hotel, and Banff Ave/Fox St in downtown Banff. There is also a shuttle every 15 minutes from the Overflow Camping parking lot on the Lake Minnewanka Loop Road.
As part of the Dragon Boast Festival celebrations there will also be cultural performances in Banff Avenue Square from 1pm to 5pm August 11 and from 12pm to 1.30pm August 12.
For further information, as well as some photos and video from last year's event, visit BanffLakeLouise.com.
From January 14 to February 12 2012 Banff SnowDays winter festival will bring a whole host of exciting winter activities and events to the town of Banff and other venues in Banff National Park. Like Jasper in January, a popular annual event in Jasper Alberta, SnowDays is a chance to celebrate everything that is wonderful about winter in the Canadian Rockies. While skiing and snowboarding are already extremely popular activities for winter visitors to Banff, SnowDays introduces some new ways to enjoy and appreciate the winter months, with story telling, outdoor skating, curling, mountain films, wildlife walks, live entertainment and street hockey joining existing events and festivals such as Celebrity Ski and the Ice Magic Festival.
Banff SnowDays Events & Activities
Banff Snow Days kicks off with the Fairmont Banff Springs Celebrity Sports Invitational, otherwise known as Celebrity Ski on Thursday January 12 2012. Taking place until January 15, Celebrity Ski brings together Hollywood stars such as Robert F. Kennedy Jr. and Alec Baldwin at the Fairmont Banff Springs Hotel with skiing, snowboarding and other fun events at Sunshine Village in aid of the Waterkeeper Alliance.
The same weekend, the Mountain Adventure Festival will take place on January 14 and 15 with ice climbing in downtown Banff, outdoor skating, snow carving, and mountain adventure stories.
January 20-22 sees the first weekend of the Ice Magic Festival in Lake Louise where masterpieces will be carved from huge blocks of ice, while on Jan 21 at the Fairmont Banff Springs Hotel there's a chance to join a free guided hike with Parks Canada to learn how to identify wildlife tracks. Kids will love meeting sled dogs on the evening of Jan 21, and on Sunday January 22 the famous Lake Louise to Banff Loppet cross country ski race will take place.
On the evening of Friday January 27 the hilarious Cardboard Sled Derby takes place at Mount Norquay and on Janury 28 and 29 the second weekend of the Ice Magic Festival takes place with an emphasis on family fun for the Little Chippers. Also on Jan 28 is a talk about bear safety courtesy of Parks Canada, and that night you'll have the opportunity to join the Royal Astronomical Society of Canada for an evening of star gazing.
Saturday February 4 sees the Dave Irwin Dash for Cash at Sunshine Village, free snowshoeing lessons at the Fairmont Banff Springs golf course, and fireside stories about Norman Sanson at the Banff Park Museum. On Sunday February 5 visit the Mary Schaffer Story Tent to hear historical stories about early explorations in Banff National Park.
For something completely different, on the final weekend of Banff SnowDays, why not go and see the Victorian Soldier Drumming and Firing Demonstration on the evening of Friday February 10. One of the highlights of Banff Snow Days 2012 has to be the street ball hockey tournament taking place on Banff Avenue throughout the day on February 11 and 12, and for a historical perspective on Canada's national game there's also the opportunity to see a Victorian Hockey Demonstration on Feb 11 at the Banff Community High School Outdoor Rink.
The above SnowDays activities are just a small selection of what's on offer throughout this exciting winter festival, and you will find a full schedule of events by visiting www.banfflakelouise.com.
Find a Banff Hotel
In general, Banff hotels do not offer special packages or deals specifically for SnowDays, however if you need accommodations during this winter festival you can simply click here and enter your dates to see rates and availability for a selection of hotels in Banff.
If you are planning to celebrate New Years in the Canadian Rockies, Lake Louise is well worth having on your shortlist of potential destinations. With attractive hotel packages, awe inspiring scenery, and world class skiing on your doorstep, New Years in Lake Louise is sure to provide an experience to remember.
If you are looking for a New Year package at a Lake Louise hotel, we have listed some interesting options below:
New Years at the Fairmont Chateau Lake Louise
Surrounded by magnificent views on the shore of Lake Louise, the Fairmont Chateau Lake Louise boasts an idyllic location for any occasion, and will indeed be a memorable place to celebrate New Year's Eve 2012. Throughout the Christmas and New Year period the hotel is offering a special Holiday Package which includes your hotel accommodation, one sleigh ride per stay, daily breakfast, and self parking. The package is valid from December 1 2012 to January 17 2013 with rates starting at $329 per room per night.
Click here for details and to check availability.
In true Fairmont style, the Chateau Lake Louise has a wide variety of fun activities and events taking place during the holiday period, with several options for both New Year's Eve and New Year's Day:
New Year's Eve Dinner Buffet – December 31
In the Victoria Ballroom, a family friendly New Year's Eve dinner buffet will be offered on December 31 2012.
5.30-6.30pm first seating (recommended for families)
8.00-9.00pm second seating
Adults $89, Children 6-12 yrs $44.50
New Year's Eve Family Fair – December 31
A special party for the children in the Mount Temple Wing with face painting, balloon artist, bouncy castle and other exciting kids' entertainment. Kids must be accompanied by parents.
7.30-10.30pm
Fairview Dining Room – December 31
An adult only New Years celebration featuring a four course New Year's Eve menu.
5.30-10.00pm
Adults $99
Glacier Saloon – December 31
See in 2013 in a fun pub style atmosphere in the Glacier Saloon, including a live DJ. (not recommended for children)
10pm-2am
Lakeview Lounge – December 31
A sophisticated venue for enjoying your favorite drink and celebrating New Year's Eve.
9pm-12.30am
New Year's Day Brunch – January 1
For your first meal of 2013, the famous New Year brunch at the Fairmont Chateau Lake Louise is sure to please the whole family, with an impressive buffet including children's specialties, taking place in the Victoria Dining Room.
1st Seating 10.00-11.00am
2nd Seating 12.30-1.30pm
Adults $59, Children 6-12 yrs $29.50
As well as the dining options above, there is a whole host of festive activities taking place at the Chateau Lake Louise on December 31 and January 1 including Ice Walks, Snowshoeing, Cross Country Skiing, Mitten Making, and a Children's Pool Party.
To check availability and rates for the Fairmont Chateau Lake Louise Click Here.
New Year at the Lake Louise Inn
At the time of writing, the Lake Louise Inn still has rooms available over the New Year period. To check current availability and rates, click here.
If you are interested in a special package, the Lake Louise Inn also has a 1 night deal for New Years, which includes accommodation for one night, plus a New Year's Eve dinner buffet for 2 adults. This package is valid for arrivals on December 31 only and rates start at $219.
Deer Lodge New Year's Eve
Deer Lodge is offering a one night special package for New Year's Eve. The New Year's Eve Extravaganza Package includes accommodations for one night, plus a gala dinner with a glass of sparkling wine and DJ entertainment on December 31 and a buffet breakfast on New Year's Day, with rooms starting at $394.
To check room only availability at Deer Lodge click here.
*The above rates are generally based on double occupancy, are subject to applicable taxes, subject to availability, and subject to change without notice. To check current rates and availability please use the links provided.
On Saturday April 9 from 7-9pm, the opening reception for the exhibition White Mountain will take place in the Main Gallery at the Whyte Museum of the Canadian Rockies in Banff Alberta. The exhibition is a tribute to artist Phil (Gaspar) Michaud (1935 – 2010) who lived and painted in Banff from 1964 to 2001. The exhibition, which runs from April 9 to June 12 2011, documents the journey of an artist from the prairies, through the foothills, to the Rocky Mountains of Alberta, and features Phil's last body of work "White Mountain".
Also opening the same evening is the exhibition Reckonings: Michael Cameron & Karen Maiolo, featuring the work of 2 contemporary Bow Valley artists.
Short opening speeches introducing both exhibitions will take place in the Main Gallery around 7pm.
For more information about these and other exhibitions at the Whyte Museum, visit www.whyte.org
**Update – it now appears that Will and Kate have in fact included a visit to Banff National Park as part of their Royal Tour, and spent the night of July 6 at a remote hotel near Lake Louise in the Canadian Rockies backcountry.**
It has been announced that Prince William and Kate Middleton will be visiting Canada from June 30 to July 8 2011, just 2 months after their much anticipated Royal Wedding on April 29. Although their Canadian honeymoon schedule is still somewhat vague, it seems certain that they will be ending their tour in Alberta on July 8. The obvious question from the Canadian Rockies is, will the royal couple be paying a visit to Banff, Canada's own crown jewel? The Canadian Rockies are no strangers to royal visitors, with Queen Elizabeth II and Prince Phillip having visited in 2005, and King George VI and Queen Elizabeth in 1939. July would be an ideal time to visit Banff National Park, when views of the magnificent mountain peaks and pristine lakes would offer the perfect last impression from the final section of what is sure to be a wonderful tour of Canada. If they do pay a visit, there can be no Banff hotel more fitting for a future king than the Castle in the Rockies, the Fairmont Banff Springs Hotel where the luxurious Presidential Suite would seem like the obvious choice for the newlyweds.
One thing is for certain, if Will and Kate do spend part of their honeymoon in Banff, it will be a huge boost for tourism in the whole of the Canadian Rockies, as the natural wonders of this region will be seen on TV by millions of people throughout the world.
In addition to Alberta, the royal couple will be visiting Ottawa, Quebec, Prince Edward Island and the North West Territories.