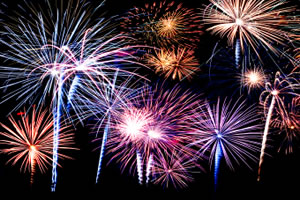 Banff is a superb destination for celebrating New Years, where sophisticated New Year's Eve parties, mouth watering New Year menus, and fun family activities, all combine to make 2017/18 New Years in Banff Alberta very difficult to beat.
Find a Room
For hotels in Banff, New Years is a much busier time than Christmas in Banff and early reservations are strongly recommended. Although many Banff accommodations do not offer specific packages for New Years, you can be sure that they are all open for business, and those with restaurants will generally have special dinners or festive menus available.
*Note that at this busy time you will generally find better availability for a 2 night stay or longer.
To check availability and rates at Banff hotels for New Years or other dates, click here.
*To give you an idea of the exciting events in store for 2017 celebrations, you will find a program of last year's events below, which will be updated in due course*
Canada 150 NYE Party in Banff
To mark the start of Canada's 150th anniversary there will be an outdoor family friendly party in downtown Banff between Buffalo Street and Wolf Street from 7pm to midnight on Dec 31 featuring street entertainers, games, kids' activities, food stalls and of course the usual spectacular firework display.
Alternatively, if you are looking for a special New Years hotel package or festive menu, we have featured some interesting options below.
New Years at the Fairmont Banff Springs Hotel
For years the Fairmont Banff Springs Hotel has been renowned for hosting the biggest New Year's Eve party in Banff, and December 31st 2016 will be no different. If you are thinking of visiting the Banff Springs for New Years, you should take a look at what they have planned for their New Years Gala, and indeed throughout the holiday period there is a whole host of exciting festive activities and events taking place at the Fairmont Banff Springs Hotel, as well as several ways to spend New Years Eve itself:
New Year's Gala – Dec 31 2016
This is Banff's big New Years celebration – in the Van Horne Ballroom a wonderful 4 course dinner is served including wine service and a host bar, with a live band playing in the background. Following dinner the music becomes livelier and dancing begins for a fully fledged New Year's Eve party until 1am, with a midnight buffet included. After dinner from 8pm children aged 6-12 yrs are invited to attend the New Year's Kids Party (see below).
6pm-1am
Cost for the whole evening $329 adults, $179 teenagers (13-17 yrs)
Cost for dance only $149 adults, $109 teenagers (13-17 yrs)
Cost for dinner & kids party $179 (6-12 yrs)
New Year's Kids Club Party – Dec 31
This children's party is ideal for the 6-12 year old kids whose parents are attending the New Year's Gala party (see above), and includes dancing, bowling and kids' activities.
7pm-12.30am in the Banff Springs Conference Centre
New Year's Eve Dinner Buffet – Dec 31
A worthy feast to celebrate the last day of the year featuring local cuisine.
5-9pm in the Bow Valley Grill
Adults $79, Children 6-12 yrs $45
New Year's Day Brunch – Jan 1 2017
What better way to start off 2017 than to enjoy the New Year's day brunch in the Bow Valley Grill? A veritable feast and, for many, a New Years institution.
11am-2.30pm, Adults $65, Children 6-12 yrs $37
To check room rates and availability at the Banff Springs Hotel for the holiday period click here.
For further details of all the festive activities and dining events taking place over New Years, take at look at the Banff Springs Hotel's Christmas at the Castle Guide which you will receive when you check in.
Rimrock Resort Hotel
The Rimrock Hotel has several dining options for New Year's Eve, including a 6 course gourmet dinner in the Eden Restaurant, a five course New Years Eve menu in the Primrose Dining Room, and a Roaring 20s Ballroom Gala including buffet dinner, plus Jazz Trio and DJ entertainment.
Banff Park Lodge
The Banff Park Lodge has a tradition of celebrating the Holiday Season in style, and the last day of the year will be no different:
Gourmet Celebration Buffet – Dec 31 2016
Your last meal of 2016, so make it a good one! Generous buffet in the Chinook Restaurant which the whole family will enjoy, including salads, cold appetizers, braised lamb shank, grilled chicken with wild mushroom sauce, carving station with Alberta prime rib and smoked pork tenderloin, plus a flambé dessert station and a chocolate fountain!
6pm-10pm, Adults $65, Children 6-12 yrs $38
New Years Day Brunch – Jan 1 2017
Delectable brunch buffet in the Chinook Restaurant to celebrate the first day of 2016.
10am-2pm, Adults $35, Children 6-12 yrs $19
*The above rates are subject to applicable taxes, subject to availability, subject to change without notice, and hotel room rates are generally based on double occupancy. For current information, please contact the Banff accommodations directly using the links provided.
If you are spending Xmas in Banff, you may be interested in reading our article about accommodation packages in Banff at Christmas.
If you are looking at various options in the Rockies for New Years, you may also wish to consider New Year's Eve in Lake Louise.
If you cannot find a vacancy at a hotel in Banff for December 31, you may wish to consider spending New Year's Eve in Canmore, just 20 minutes drive east of Banff, where room availability can often be better.