New Year Hotel Packages in Banff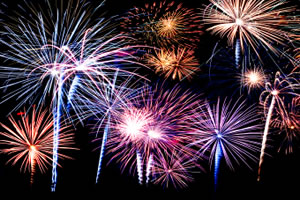 Banff is a superb destination for celebrating New Years, where sophisticated New Year's Eve parties, mouth watering New Year menus, and fun family activities, all combine to make New Years in Banff Alberta very difficult to beat.
Find a Room
For hotels in Banff, New Years is a much busier time than Christmas in Banff and early reservations are strongly recommended. Although many Banff accommodations do not offer specific packages for New Years, you can be sure that they are all open for business, and those with restaurants will generally have special dinners or festive menus available.
*Note that at this busy time you will generally find better availability for a 2 night stay or longer.
To check availability and rates at Banff hotels for New Years or other dates, click here.
Alternatively, if you are looking for a special New Years hotel package or festive menu, we have featured some interesting options below.
Delta Banff Royal Canadian Lodge
Guests of the Delta Banff Royal Canadian Lodge are fortunate to have the Evergreen Restaurant on the property, one Banff's finest dining establishments.
For New Year's Eve the Evergreen is offering a delectable 4 course menu for $75 per person. The choice of appetizers includes Classic Provencal Seafood Bourride, Tian of Sushi, and a Terrine of Quebec Rabbit. The entrees consist of Alberta Beef Tenderloin with Foie Gras Parfait, Curry Crusted New Zealand Orange Roughy, or Braised Elk Osso Bucco Bourguignon. The meal is rounded off with a Duo of Chocolate or Apple Filled Creme Brule dessert.
To check room availability at the Delta Banff Royal Canadian Lodge, click here.
For dinner reservations, contact the Evergreen directly.
New Years at the Fairmont Banff Springs Hotel
For years the Fairmont Banff Springs Hotel has been renowned for hosting the biggest New Year's Eve party in Banff, and December 31st 2012 will be no different. If you are thinking of visiting the Banff Springs for New Years, you should take a look at what they have planned for their New Years Gala, and indeed throughout the holiday period there is a whole host of exciting festive activities and events taking place at the Fairmont Banff Springs Hotel, as well as several ways to spend New Years Eve itself:
New Year's Gala – Dec 31
This is Banff's big New Years celebration – in the Van Horne Ballroom a wonderful 4 course dinner is served including wine service and a host bar, with a nine piece band playing in the background. Following dinner the music becomes livelier and dancing begins for a fully fledged New Year's Eve party until 1am, with a midnight buffet included. After dinner from 8pm children aged 6-12 yrs are invited to attend the New Year's Kids Party (see below).
7pm-1am
Cost for the whole evening $295 adults, $149 teenagers (13-17 yrs)
Cost for dance only $125 adults, $90 teenagers (13-17 yrs)
Cost for dinner & kids party $149 (6-12 yrs)
New Year's Kids Club Party – Dec 31
This children's party is ideal for the 6-12 year old kids whose parents are attending the New Year's Gala party (see above), and includes dancing, bowling and kids' activities.
8pm-1am in the Upper Level of the Banff Springs Conference Centre
Cost for gala dinner & kids party $149 (6-12 yrs)
Cost for kids party only $79 (6-12 yrs)
New Year's Family Skating Party – Dec 31
Three course family dinner in the Waldhaus Pub, followed by ice skating on the Waldhaus Rink
5-9pm, Adults $55, Children 6-12 yrs $27.50, skate rental extra.
Hunters Brunch – Jan 1
What better way to start off 2013 than to enjoy the New Year's day brunch in the Bow Valley Grill? A veritable feast and, for many, a New Years institution.
11am-2pm, Adults $59, Children 6-12 yrs $29.50
To check room rates and availability at the Banff Springs Hotel for the holiday period click here.
For further details of all the festive activities and dining events taking place over New Years, take at look at the Banff Springs Hotel's Christmas at the Castle Guide by clicking here.
Buffalo Mountain Lodge
Buffalo Mountain Lodge is offering a New Year's Eve Extravaganza Package, valid for one night on December 31st 2012. The package includes lodging and a gourmet dinner with a glass of sparkling wine, DJ entertainment, plus a buffet breakfast on New Year's Day. Rates start at $299 per person based on double occupancy.
Rimrock Resort Hotel
The Rimrock Hotel has several dining options for New Year's Eve, including a 6 course gourmet dinner in the Eden Restaurant, a five course New Years Eve menu in the Primrose Dining Room, and a Ballroom Gala including a cocktail hour, four course dinner, and live music.
Restaurant Le Beaujolais
Le Beaujolais is Banff's premier fine dining restaurant and for New Year's Eve they have put together several delicious menus, ranging from 3 or 4 course dinners with early seating from 5.30-6.30pm to a superb 6 course Gala dinner with seating at 8pm. There is also a late seating 3 course option at 9.30pm. No matter which dinner you choose, at Le Beaujolais your last meal of 2012 is sure to be a memorable one.
To view the full menus and prices visit www.lebeaujolaisbanff.com.
*The above rates are subject to applicable taxes, subject to availability, subject to change without notice, and hotel room rates are generally based on double occupancy. For current information, please contact the Banff accommodations directly using the links provided.
If you are spending Xmas in Banff, you may be interested in reading our article about accommodation packages in Banff at Christmas.
If you are looking at various options in the Rockies for New Years, you may also wish to consider New Year's Eve in Lake Louise.
If you cannot find a vacancy at a hotel in Banff for December 31, you may wish to consider spending New Year's Eve in Canmore, just 20 minutes drive east of Banff, where room availability can often be better.