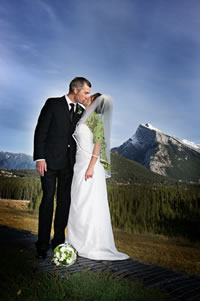 Wedding at the Juniper Hotel & Bistro
photo: Open Image Photography
There can be little doubt that the town of Banff, situated in the heart of the majestic Canadian Rockies, is one of the world's most idyllic locations for that very special wedding day. Once you have your heart set on getting married in Banff, the following list of Banff wedding venues should provide a good starting point for turning your wedding dream into a reality that you and your guests will remember for years to come:
The Juniper Hotel & Bistro
For a Banff wedding venue that offers all the facilities you need in one convenient location, it is difficult to beat the Juniper Hotel & Bistro, Banff's trendy mountain oasis, which specializes in celebrations for up to 110 guests. The Juniper Terrace provides a spectacular outdoor setting for a wedding ceremony, surrounded by Banff's iconic mountain peaks and overlooking the sparkling Vermillion Lakes, and the Juniper Bistro & Lounge, serving some of Banff's finest cuisine, offers the ideal location for your wedding reception.
For more information about Banff wedding packages for a variety of group sizes and budgets, visit www.thejuniper.com.

Banff Park Lodge
Centrally located in downtown Banff, the Banff Park Lodge offers a wide variety of wedding reception rooms, suitable for all sizes of wedding party up to as many as 450 guests. Being a popular venue for conferences, they have an extensive range of catering menus and have all the necessary facilities for dealing with larger groups.
To find out more about using the Banff Park Lodge as a venue for your wedding reception, visit www.banffparklodge.com.
Buffalo Mountain Lodge
With a peaceful location on Tunnel Mountain, Buffalo Mountain Lodge is a good choice for anyone looking for Banff wedding venues with the look and feel of a traditional Canadian Lodge. There are 3 function rooms which can be used for a wedding reception, and groups of up to 90 people can be accommodated. Their renowned Rocky Mountain Cuisine is available in a variety of special menus and is sure to please even the most demanding foodie in your wedding party!
To find out more about their wedding package or elopement package, visit www.crmr.com.
Fairmont Banff Springs Hotel
Sometimes known as the 'Castle in the Rockies', the Fairmont Banff Springs Hotel offers a fairy tale setting for a marriage ceremony or wedding reception, and boasts several function rooms which can accommodate wedding groups from 12 to 220 people. Food service and attention to detail is top notch and during the summer rarely does a weekend go by without at least one happy couple tying the knot at this popular Banff wedding venue.
For more information about wedding packages at the Banff Springs, visit www.fairmont.com.
Rimrock Resort Hotel
Perched on the slopes of Sulphur Mountain with commanding views over the town of Banff and surrounding peaks, the Rimrock Resort Hotel is a luxury Banff hotel which offers several function spaces for wedding ceremonies and receptions for up to 400 people.
To download their wedding package brochure or banquet menu, visit www.rimrockresort.com.